The horse has long been beaten dead on the Californians moving to Texas joke. Blah blah blah so expensive! And the taxes! Avocado toast! 
Booooooring. 
I'll skip that part. I'll get straight to the point.

Here's what to expect 
1) Austin is Cheaper
No S#$& Alex! Everything is cheaper than the Bay Area. 
2) Austin isn't that Cheap
While Austin has much lower cost of living than the bar area, Austin's cost of living has increased a lot in the last 10 years. Broadly speaking, if you want a modern apartment with modern amenities, expect the following price breakdown for a rental near Downtown.

Studios: $1300+
1 Bedroom: $1400+
2 Bedrooms: $2000+
3 Bedrooms: $2500+
3) No State Income Tax 
Yay!
4) Austin is in Texas
"Uh…..why are you telling me this? I know this!"

It's easy to forget you live in Texas if you spend all of your time in Austin. It's not until you get out of the city that you can really experience the real Texas. You know, that Texas. Somebody more eloquent than me described Austin as a blueberry in a cherry pie if you catch my fruity-filled drift. 

5) Rental Market Dynamics
Tons of high density apartments popping up. While it's true rent prices have gotten much higher in the last 10 years, it's been accompanied by the massive boom of tech industry your city is so well known for. Tons of jobs and opportunities here!

Austin has been building a F-load of brand new apartments to keep up with the living demand. So much so, it puts renters always have leverage in the rental process.

All of my bay area clients are blown away with all of the living options here. The basic apartment complex will have modern gyms, pools, washer & dryers, and garage parking. Some may even throw in a free month of rent to entice you to move in!

Instead of having to show up to an apartment with a check ready to sign a lease, you will be choosing from potentially dozens of wonderful options.

Here, apartments are the ones competing for you! How awesome!

6) Deposits
Deposits are way way cheaper. Instead of the brutal First/Last/1 Month Security Deposit sinkhole of cash, you will only pay between $99-$500 for your apartment deposit. 
7) Apartment Sameness
The downside of all the new buildings is their uniformity. That charming little bungalow or walk-up house brimming with history and style is rare. 
Instead, most of the housing supply is dominated by relatively similar apartment complexes with similar floor plans and amenities. 
8) My Favorite & Most Popular Neighborhoods for my clients
Afraid of losing out on that San Francisco funkyness?

That's my favorite bar of SF. The unabashed weirdness. The open embrace of whatever odd shit your friends are up to. The amazing local food and bars and freaky little boutique shops. Don't worry! We've got that too!

Downtown is great if you work there and don't want to buy a car, but won't give you the same Austin vibes. Overall, I think it's a bit overpriced.

Most of my clients who initially look into living downtown wind up in East Austin and South Austin. Personally, I think those are the best neighborhoods for charming local funkyness. 

9) Here are my guides on all three neighborhoods.  
10) Austin is still small!
At a population of 1.2 million, Austin is still fairly small. Downtown is mercifully located in the center of the city. From most places in Austin, it takes no longer than 20-30 minutes to get Downtown. 
11) Cars are King
Unless you live in Downtown or East Austin, you're going to need a car.

My best advice, live near where you work. You will save yourself a ton of time if you don't have to use I35 to commute.

While our lack of public transportation is indeed a tragedy, getting around is still easy isn't too bad. 
12) Tons of land
While Austin is becoming more and more dense, it's still worth understanding how much open land surrounds the city. Unlike the SF's land-water constraints, Austin is basically in the middle of nowhere. This city will be expanding outward for a long time to come.
13) Austin's Food Scene is Excellent
You already know about the barbecue and breakfast tacos, but you will quickly learn our Asian food scene punches far beyond it's weight. 

14) So much music!
The music scene is about as big as you've heard It's F'N massive! For whatever you're into, you can find it.

15) Making friends in Austin is easy
Austin is filled with transplants from all over the country. Unlike many other transplant cities, most are here to stay. I can't totally describe why, but Austin attract high quality down to earth people who have their shit together. You'll be surprised at how easy plugging into a group of friends can be. 
16) Austin is Green AF
Austin isn't the Texas you're thinking about. It's not the awful desert of West Texas, nor the humid swamp of Houston. It's also not a concrete jungle like Dallas. Instead, Austin is a sweet spot of rolling green hills, trees, and of course, the many Greenbelt hiking trails scattered around the city. 

17) Austin really really loves dogs
Austin is one of the best cities in the country to be a dog. Virtually every apartment has very favorable pet policies, and low deposits. Even "aggressive" breeds like pitbulls have their place here. Austin Pets Alive is one of the biggest volunteers communities for pets.  

18) Austin is awesome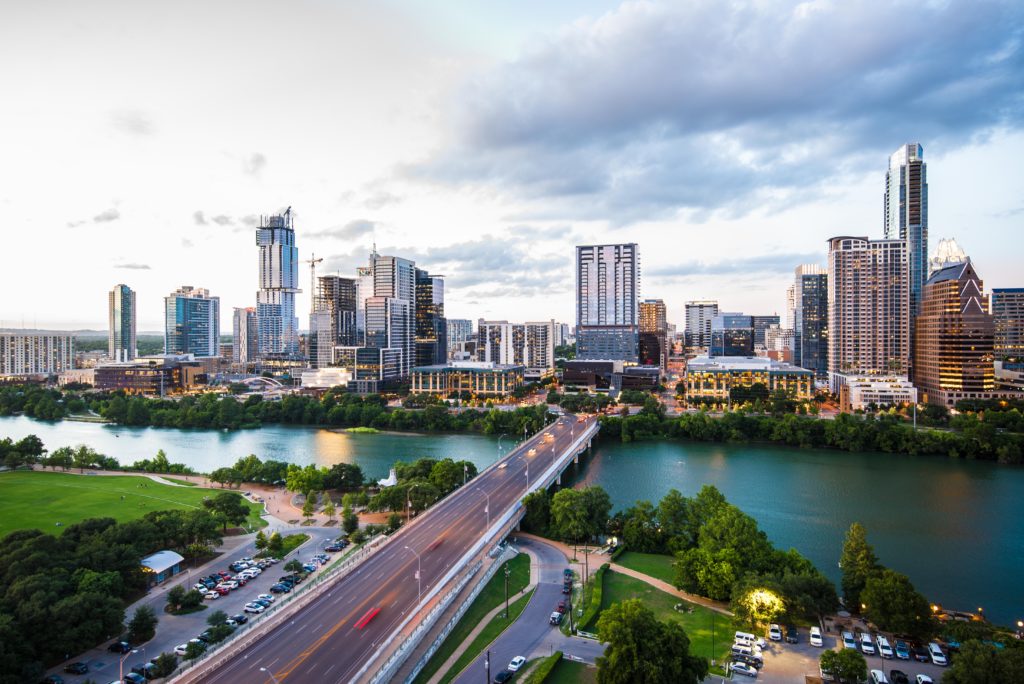 By now, you may have rightfully come to the conclusion that I like this city. I fully intend on liking it for the indefinite future. Austin is the only place I know where almost everybody I meet really likes living here.