We've toured hundreds of apartments, and helped tons of people find places to live. We've seen a lot, and our clients tell us a lot. This is a totally different perspective than one you'll get from Google or Yelp.
But we do have our limitations. We haven't lived at every apartment complex (because that would take hundreds of years). We've been to most apartments, but not all. We'd be lying if we said our guides were objective. They aren't. Our tastes & opinions may vary from yours, but we hope that we can give you the best insight possible before choosing a place to live.
Our Goal
The goal with this guide, like all of our guides, is to give you a clearer window into what to expect when renting. This guide is the best of what we know about the apartment communities in the Domain, and what to expect when renting there.
What rental prices to expect
Studio: $1100+
1 Bedroom: $1250+
2 Bedroom: $1800+
3 Bedroom: $2200+
High-End Luxury Domain Apartments
Here's a list of some of the luxury apartments found at the Domain, and our take on them.
The Standard At The Domain
Pros
Probably the most well-located building in the Domain in the Domain Northside.
Amazing fitness center
Reasonable prices
A very quick walk to the best retail in the Domain, and Rock Rose
Good floor plans
Well reviewed on Google
Cons
The swimming pool area, while it looks good in pictures, is kind of parking-lot-y.
Overall Thoughts
The Standard is probably the best overall pick in the Domain for the price, quality, and location. I would tell anybody who is seriously considering living in the area to give this a shot.
The Kenzie
Pros
Very beautiful building
On the higher end of luxury
Great amenities & pool area
Perfect location right along Rock Rose
Great floor plans with high ceilings
Cons
Questionable color schemes. Really, it's kind of bizarre the choices that were made here.
Some issues with management, but nothing catastrophic.
Overall Thoughts
The Kenzie is the second swankiest building in the Domain (behind The Flatiron). I love its location right across from Rock Rose. It's going to be priced higher than others nearby, but for those with a higher budget in mind, this will easily be one of your top contenders.
Flatiron Domain
Pros
Damn! This place is swanky AF!
Seriously, Flatiron is by far the most beautiful new building in the Domain.
Actually, it's probably the most high-end building in all of North Austin.
Cons
It's also priced like a Downtown Austin building!
Located on the farther end of the Domain, so not as easily walkable as places like the Standard or Kenzie.
Overall Thoughts
Flatiron sets a new bar for quality in the Domain. It's built, furnished, and priced like apartment homes in a Downtown Austin high-rise. If you work in North Austin and want the highest of luxury in the area, this place is rivaled only by the Kenzie, and even then barely comes close. You will pay Downtown type prices, but you will be very comfortable.
The Grand At Domain
Pros
Brand new building as of this writing
Very high end
Some floor-to-ceiling-window options are available!
Great location
Cons
Some units will have street noise from Burnet Road
Priced like a very high-end building, but has amenities comparable to a medium-high end building.
Overall Thoughts
The Grand is a brand new building, so it will take time to see how things play out here. It's positioned as a high-end building to be compared to the Standard, Kenzie, and Flatiron. I suspect it's going to become one of the best options for the Domain.
Medium Priced Modern Domain Apartments
The still very nice but not so expensive apartments, and our thoughts about them.
Residences At The Domain
Pros
Well priced for the location
Great floor plans, with excellent one-bedroom and two-bedroom options
Great walking distance to everything in the Domain
Cons
Poorly reviewed on Google. It seems like management doesn't really have their shit together.
Since the building is spread across much of the Domain, your unit may be located right above the shopping mall side of things.
Notably older compared to others in the area.
Overall Thoughts
I want to like this building more than I do. The location is great, the building is modern, and the prices are usually very reasonable for the area, however, the management team seems to have consistent problems as reflected by their reviews. But I have had clients move here and have good experiences, so it's always worth putting reviews into the greater context. I wouldn't ignore this building, but I would probably go for something like the Standard if prices are similar.
Gallery At Domain
Pros
A great brand new building
Competitively fantastic high-quality amenities
Massive dog park nearby
Good Prices
Cons
Location. It's farther away from the center of the Domain which has all the primary retail and social activities. It's still not that "far" in the sense that it's still walkable, but much less so compared to others in the Domain.
Some issues with the reviews, but nothing seems to be too major.
Overall Thoughts
Gallery Domain is a must-see building, if you're considering this area. Almost everything about the building is high-quality. Its only flaw is its location (at least compared to places like the Standard and Residences)
Villages At The Domain
Pros
Probably the most cost-effective option in the area.
Cons
One of the first, and therefore oldest buildings in the Domain.
Seems to have been bitten by the "bad management" bug as reflected by the Google reviews.
Overall Thoughts
Villages at Domain often fades into the background given the others nearby, and for good reason. Compared to the neighboring options, Villages is older, of poorer construction quality, and it seems, of much lower management quality. The Google reviews here are telling, and not in a good way. Unless they have some ridiculously low prices, I would avoid it.
IMT Domain
Pros
Cons
Everything else.
Like most IMT properties, this one is of the total absence of design.
IMT is positioned as the cheap-modern option and on the bottom of the scale of management quality.
Worth reading the reviews. As of writing this, it seems like a disaster.
Overall Thoughts
Not really worth even delving into this one. Its only benefit is being cheap on the surface, but everything from the building quality to the management quality seems cheap. There are better options.
Sneaky Dark-Horse Apartments Near The Domain
These are the apartments just outside of the Domain but are compelling enough to write about based on their location, price, and quality.
Addison Kramer Station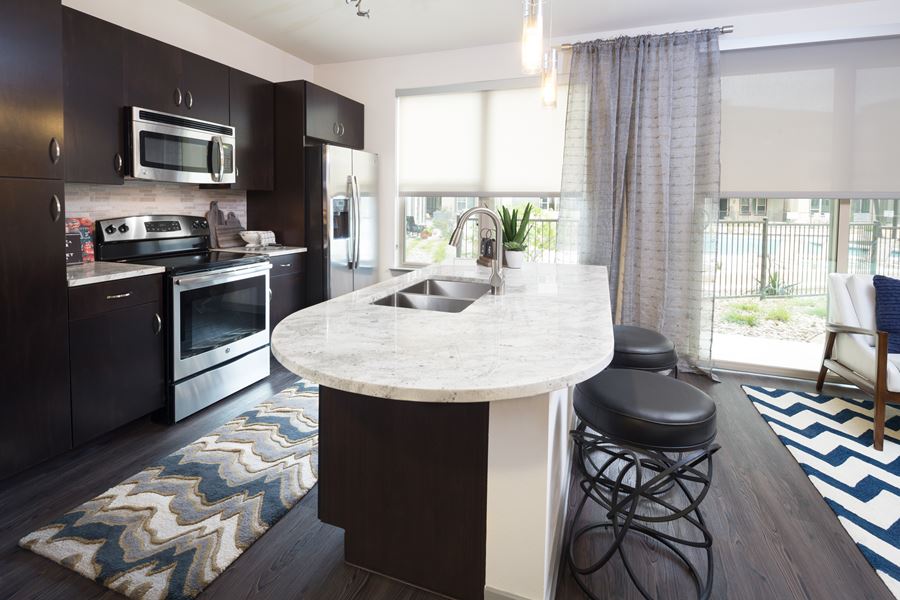 Pros
Great building quality
Very competitive prices for the Domain
Very close to Kramer station, the train that can take you Downtown.
Contains the rare 3 bedroom apartment!
Great swimming pool area
Cons
Right across the street from the Domain, so technically it's not in the Domain
Since you're not inside the Domain, you'll need to walk more for all the nearby amenities.
Outdoor parking as opposed to a parking garage, which can be a problem during summer/rain.
Overall Thoughts
Addison is one of the best options in terms of price and quality for the Domain. While it's not technically inside the Domain, it's close enough to still be walkable. You can quickly walk to the train station, which is great for your commute if you're working in Downtown or East Austin.
Copeland
Pros
Stunning building with amazing floor plans, design, and amenities
Great pricing
Brand new building
Cons
Overall Thoughts
The Copeland blew me away, when I first toured there. The building is incredibly well designed and is on par with anything you'd find in East Austin or even Downtown. Its main downside is being outside the ring of the Domain, which severely limits immediate walkability. However, you're still close enough to have quick access to the lifestyle and amenities of the Domain. Very much worth visiting.
Windsor Burnet
Pros
Very well designed and high-end building
Windsor is a consistently high-end property manager.
Cons
Right along Burnet Road, so noise may be a problem.
Like Copeland, it's not very walkable. You'll have to drive, Uber, or walk for a while to get to the Domain.
Overall Thoughts
I think it would be a mistake to avoid Windsor on Burnet when considering anything in the Domain. While it doesn't have nearly the same proximity or walkability as others here, it's quality and amenities – especially those stainless steel appliances – are high enough to warrant consideration.
Ascent Arboretum
Pros
Has a unique quiet nature-y feel despite being right next to a strip mall parking lot.
Very well priced for the area
Cons
Just outside of the Domain
Overall Thoughts
The Ascent is close enough to the Domain to make itself worth considering. The Ascent is a bit of a dark-horse option. For the right price, it can serious competitor to anything inside the Domain proper. It interestingly also has some distinct nature vibes as part of the building which is odd given its location. It should be a part of your research if you want a modern option at a reasonable cost.
Additional Resources!
Work With US!
If you're interested in moving to Austin, contact us! We're 100% FREE to work with.